As part of the Handelsbanken Group, Handelsbanken Wealth & Asset Management belongs to a business committed to financial stability, prudence, long-term relationships and a strong local presence.
These cultural cornerstones ensure that sustainability is woven into our everyday operations: in our actions as a responsible employer and purchaser, our work to minimise our environmental impact, our commitment to responsible investing, and in the active role our branches play in local communities throughout the country. All of this underpins Handelsbanken's efforts to contribute to a more sustainable future.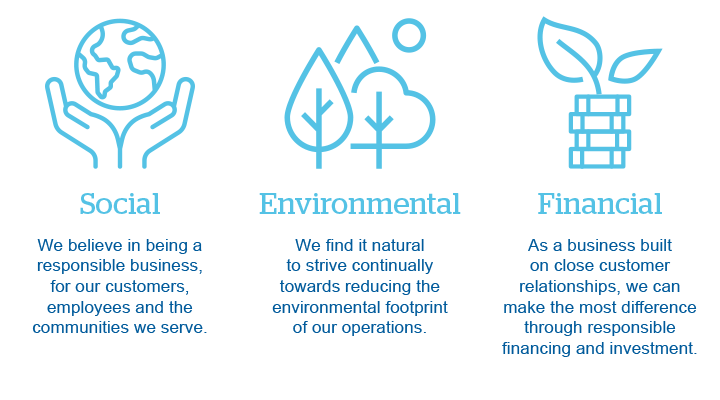 The Sustainable Development Goals were adopted by the UN General Assembly in September 2015. They consist of 17 goals, which aim to achieve sustainable social, environmental and financial development.
After careful analysis we have chosen to focus on six of these goals, all of which are related to our core business. We believe that through Handelsbanken's operations, we have an ideal opportunity to contribute to achieving these goals.
Responsible investing
We see responsible financing and investment as our biggest opportunities to influence sustainable development in society.
Our wealth management advisers in branches around the country put customers' long-term financial wellbeing at the heart of their advice, while our investment team aims to steward customers' assets carefully throughout the economic cycle. We also offer four multi asset sustainable funds which provide the building blocks our customers require to meet their risk/return objectives through responsible and sustainable investing.
Handelsbanken Wealth & Asset Management is a member of the UK Sustainable Investment and Finance Association (UKSIF), while the Handelsbanken Group is a signatory to the United Nations Principles for Responsible Investment (PRI).
Our environmental approach: working together to tackle climate change
Climate change poses wide-ranging threats to human life, livelihoods and the natural world; we must work together to avert its worst effects and to move to a low-carbon economy.
As a business built on trusting relationships, working together means supporting our customers through this change, helping them to see their individual risks and invest in long-term solutions.
We have always preferred to work with customers and businesses that share our responsible outlook, while we continually aim improve the sustainability of our own operations. Through efficient use of resources, responsible purchasing and avoiding unnecessary travel, we are further reducing our environmental impact.
Reflecting the changed working environment as a result of the COVID-19 pandemic, our digital solutions are now at the forefront of our customer and employee interaction, enabling virtual 'face-to-face' meetings to take place remotely.
Find out more about Handelsbanken's approach to sustainability
Visit the Handelsbanken website to read about the Bank's commitment and progress to a more sustainable future
Sustainability at Handelsbanken