Investment Team
Handelsbanken Asset Management
History tells us that US elections are all about the economy. For a nation priding itself on economic dominance on the international stage, this makes sense. Given a more limited social safety net than many of its developed world peers, and an unwavering belief in the virtues of the 'American Dream', the health of the labour market is also of critical importance to the average American voter. What does all this mean for President Trump's November re-election bid?
If the economy is solid and the employment picture healthy, an incumbent president in the US stands a very good chance of re-election. All the way back to Roosevelt, the incumbent has always been re-elected, provided there has been no economic recession in the two years leading up to his re-election date. Only Calvin Coolidge, the 30th US president, was successful in gaining a second term in spite of a recession within this two-year window – in the 1928 election. Meanwhile, famous casualties of a failure to secure a second term, with recession in the two years leading up to their hopeful re-election, include Herbert Hoover, Gerald Ford, Jimmy Carter and George H. W. Bush.
Source: Handelsbanken Asset Management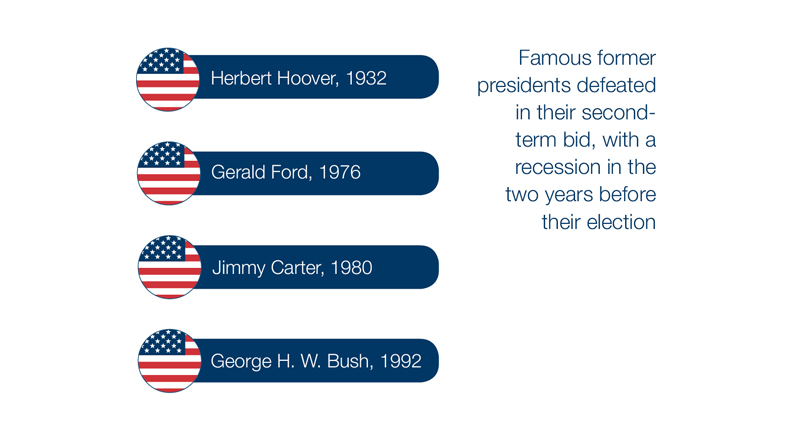 The derailing effects of COVID-19
At the beginning of 2020, history was on Trump's side. The improving shape of the economy (following an almost two-year long trade dispute with China), and the lowest US unemployment rate in around 50 years stood in his favour. Fast forward a matter of weeks, and COVID-19 struck, potentially changing everything.
The COVID-19 crisis has already had a multi-faceted impact on the US as whole. It has set the US economy on a path to recession, led (albeit potentially temporarily) to unemployment rates last seen during the Great Depression, and severely tested Donald Trump's leadership qualities in a crisis. In an election year to boot, the US electorate is assessing his every move.
Trump's initial response to the crisis – including touting the power of US testing – was taken relatively well. However, as the crisis deepened in both health and economic terms, his handling of the situation appeared increasingly chaotic, and in some instances (such as the suggestion of injecting 'detergent' into the human body to defend against the virus) outright laughable.
By mid-May, when COVID-19 restrictions in much of the developed world were beginning to be lifted, Trump's approval rating was falling. At the time of writing, the average estimate places him at just 43.2% approval. According to the US analytics company Gallup, the average polling rating for elected presidents three and a half years into their first term is considerably higher, at 51%.
Does Trump need approval?
Modern history offers just three presidents who were overwhelmingly re-elected: Richard Nixon, Bill Clinton and Ronald Reagan. Each had solid, positive net approval ratings (their approval rating minus their disapproval rating) a few months before re-election: Nixon at 17.7%, Clinton at 16.1% and Reagan at 15.3%. The last two presidents who were re-elected more narrowly – Barack Obama and George W Bush – had net approval ratings of 1.7% and -0.3% at the same stage. At the time of writing, Trump's net approval rating is a decidedly lacklustre -8.1%.
Perhaps more importantly, Trump is losing support from one of his most crucial constituencies: senior voters. For years, the Republican Party has relied on older Americans (the country's largest voting bloc) to offset the sizeable advantage enjoyed by Democrats with younger voters. In critical states with older populations, like Michigan, Wisconsin, Pennsylvania and Florida, Trump's advantage with this key group has been essential to his political success. But seniors are also among the most vulnerable to COVID-19, and some polls suggest they are losing faith in Trump as he pushes to reopen the economy, at the expense of stopping the virus.
If the approval ratings of the past are a guide, then Trump is a one-term president. But is history really likely to repeat itself so neatly?
Making Trump great again
In the face of falling approval ratings and a floundering employment picture, the Trump campaign is reverting to type. Trump's camp touts him as better able to rebuild the virus-hit economy than the presumptive Democratic nominee – Obama's erstwhile vice president, Joe Biden.
Making the virus work for them, the pandemic crisis has so far allowed Trump's campaign to both decry globalisation and villainise China. Following relatively recent signs of resolution to the long-running trade dispute with China, the highly politicised topic of bringing manufacturing back to US shores is back on the table. Some estimates suggest 'reshoring' manufacturing and production from China to the US could create three million more US jobs. The reality is far more complicated, particularly for US corporate profit margins, but the rhetoric will certainly appeal to much of Trump's audience.
The challenger enters the arena
Of course, November's election also offers another candidate – an alternative to Trump and his Republican Party. To make any significant impact, Biden and the Democrats would need not only to secure the presidency, but also the Senate (upper house of parliament). 35 seats will be up for grabs, and the Democrats require an additional four to gain control; taking over in Republican-controlled states hard hit by COVID-19 could tip the balance in their favour.
Biden himself is a centrist within the Democratic Party, and any Biden presidency would look very different to Trump's. China could probably breathe a sigh of relief, given Biden's longstanding views on free trade, though he could face some opposition to tariff relief (even within his own party). Biden would also look to roll back a number of Trump's 2017 tax cuts, both corporate and personal. This could be meaningful for stock markets, particularly as these cuts have supported US consumer activity, corporate earnings, share buybacks, and the repatriation of hundreds of billions of formerly overseas US dollars.
Biden has strong views on energy policy too: the renewable energy sector would likely be a major beneficiary of a Biden presidency. The technology sector – a powerhouse of the US economy and a dominating feature of its stock market – will also be watching Biden with interest and potential trepidation, given his views on competition laws.
Source: Handelsbanken Asset Management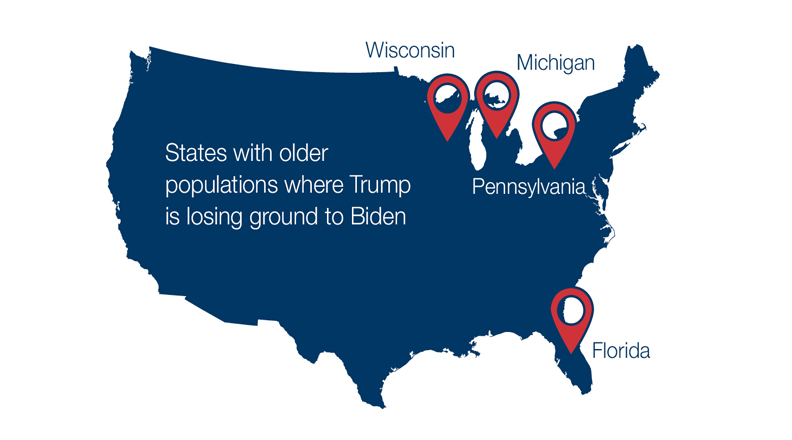 As always, the US presidential election will have huge ramifications, not just domestically, but globally too. It will impact financial markets substantially, and all investors will be closely watching each turn of events in the run-up to November.
Risks
Portfolios may include individual investments in structured products, foreign currencies and funds (including funds not regulated by the FCA) which may individually have a relatively high risk profile. The portfolios may specifically include hedge funds, property funds, private equity funds and other funds which may have limited liquidity. Changes in exchange rates between currencies can cause investments of income to go down or up. The value of any investment and the income from it is not guaranteed and can fall as well as rise, so that you may not get back the amount originally invested. Past performance is not a reliable indicator of future results.