Investment Team
Handelsbanken Asset Management
The importance of a well-diversified portfolio has rarely been more in evidence than in the first half of 2020. At the time of writing, financial markets have staged a remarkable recovery since their lowest points during the pandemic crisis. Even so, the opening months of the year can hardly be said to have been a comfortable time for investors. While we could never have predicted the precise events of the past few months, were our investment portfolios ready to face this crisis?
As the COVID-19 outbreak unfolded, our core strategies – which span a spectrum of client preferences for potential risk and financial return – were invested across a diverse range of asset types. This included higher risk assets designed to generate financial returns (such as shares and higher yielding debt market positions), as well as portfolio diversifiers, which are intended to provide balance for risks elsewhere in portfolios, while in some cases (e.g. government bonds) also serving to preserve capital.
Source: Handelsbanken Asset Management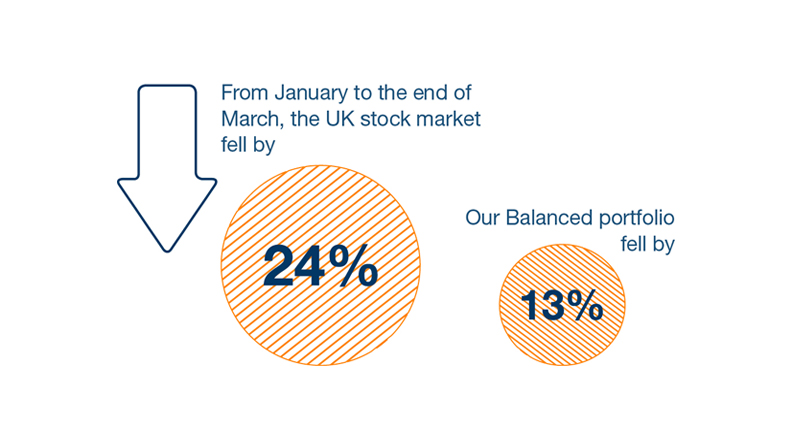 How did our portfolios respond to market falls?
This spread of asset types is core to our 'multi asset' approach, and we believe it served portfolios well as the COVID-19 crisis evolved. While, naturally, our portfolios experienced losses as financial markets fell, we think that their varied makeup alleviated the worst of the falls. Between the start of the year and the end of March, the UK stock market (represented by the MSCI United Kingdom Index) fell by 24%, while our Balanced portfolio (which we tend to use as a point of reference among our core portfolios) fell by 13%.*
During the market turbulence, we were pleased to see those portfolio positions designed to partially mitigate exposure to risk, step up. In particular, the protection afforded by our 'tail risk hedging' positions (covered further below) enabled the portfolios to tolerate concurrent holdings in risky assets in a manner that would otherwise have been extremely difficult. This was particularly helpful when, in the wake of sharp stock market falls in March, we increased portfolio holdings in global stock markets, drawn to attractive, newly-low prices. We were further encouraged by the concerted government and central bank support being offered in response to the ongoing situation, which we continue to believe will outlast the health crisis itself.
Our portfolios include assets designed to create financial returns as well as assets designed to diversify risk
Positioning in our Balanced strategy, % weightings, June 2020
Source: Handelsbanken Asset Management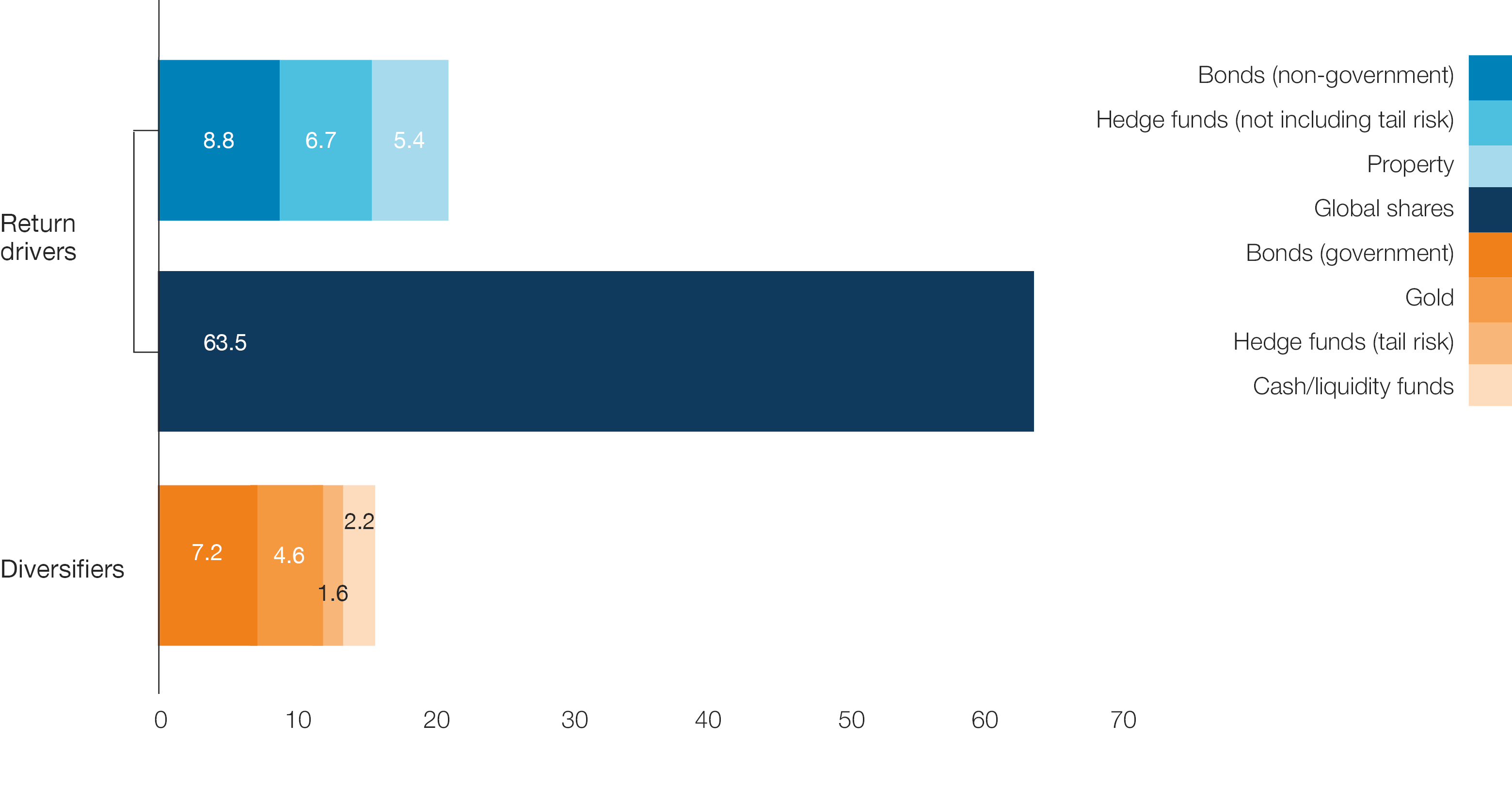 The rapid recoveries in stock market prices which ensued (the falls may have been dramatic, but so too was the rebound), and a changeable outlook for financial markets at that time, subsequently gave us pause for thought in raising our exposure to riskier assets any higher. For the time being, given the balance of factors in play, we aim to hold overall portfolio risk levels steady. As always, we remain alert to both opportunity and risk.
Therefore, what should investors expect to see next?
A shifting leader board for stock markets could lie ahead…
Within the wide-ranging pool of global stock markets, we could expect to see developed markets outperform their emerging market counterparts, as tensions rise between the US and China and a range of nations (including the UK) continue to follow an ongoing trend of protectionism. The alarm caused by COVID-19 is unlikely to slow this movement; if anything, it will accelerate the populist push to 'on-shore', as globalisation – once seen as a force for progress – is recast as a threat.
Even so, it will be difficult to completely erode the global supply chains that have been built up over the past 20 years. We do expect to see some changes, but we believe we are unlikely to see mass on-shoring, given the effect this would have on the revenues and market dominance of many companies. We continue to see compelling dynamics within key emerging market economies, and maintain selective portfolio holdings in markets like China and India.
We could also see an impact on share price valuations through changes to corporate behaviour (such as holding back cash at the expense of capital investment or dividend payments). Financial markets will likely deliver new winners (and, by extension, new losers) as the world re-evaluates its priorities. Increases to our high conviction positions in themes like healthcare, technology (particularly software) and insurance, as well as assets with good sustainability credentials, indicate our own predictions and preferences.
…but investors will prize growth and certainty wherever they can find it
For much of the past decade, shares which fall under the 'value' category (typically belonging to businesses with limited potential for future growth, and which normally therefore trade at lower prices) have lagged those classified as 'quality' or 'growth' shares. The latter includes giants of technology and ecommerce, such as Netflix, Amazon and Facebook, whose share prices have been driven upwards by an insatiable hunt for growth amid collapsing interest rates around the globe.
'Value' shares have shown some signs of rebound during the latest period of recovery, following the springtime market lows. However, while we should expect some short periods of outperformance for 'value' shares, the strong balance sheets and resiliency of 'growth' businesses mean that their share prices are probably likely to continue to lead the way over the medium term.
The shares of 'value' companies have underperformed those of 'growth' businesses over the past decade
MSCI World Value Index versus MSCI World Growth Index
Source: Factset and MSCI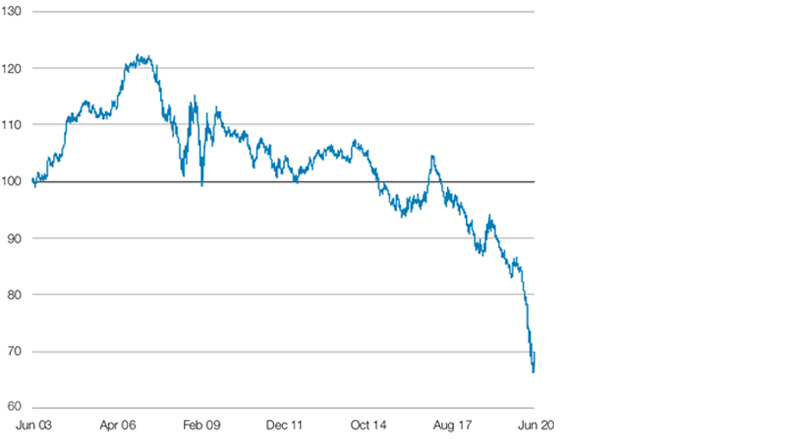 Meanwhile, yields on bonds (which move inversely to their prices) are likely to stay low. With investors prizing certainty where they can find it, there will be limited incentive for bond issuers to offer high yields to their lenders. Our preferences remain for high-yielding corporate debt, emerging market debt, and alternative income areas like specialist trade financing. Holdings like these feature in our core portfolios, alongside traditional fixed income assets like UK government bonds.
Should investors worry about inflation?
Unlike in the aftermath of the 2008 financial crisis (when central banks were acting largely without government programmes to back them up), both government and central bank support packages are in action today. Given the size and scale of these programmes, there is a greater chance that they will make an impact on the 'real' economy. This includes inflation, although as ever, many factors will be acting in the opposite direction too.
Taken alongside some slight moves towards 'on-shoring' of production (which will likely bring with it some increased pricing pressures at certain points over the coming decade), we would not be surprised to see a slightly higher – or at least a little more volatile – inflationary outlook ahead than we have become used to over the last ten years. Even so, while there is potential for a slightly higher inflation regime ahead, the probability of a sudden surge in inflation remains very low, given the fragile current state of demand.
Taking a cautiously optimistic stance on the outlook for financial markets
This move towards increased volatility is likely to be present in financial markets too. We believe markets are likely to retain some increased turbulence over the coming months, more so than we have become used to in the recent past.
Beyond the unexpected hit to global growth caused by the COVID-19 crisis (and in particular lockdown conditions across the globe), we are cognisant of other risks to the outlook for financial markets, including re-emerging trade tensions and politics – the ongoing Brexit process and the US presidential election spring to mind. Nevertheless, the unparalleled support of governments and central banks for the global economy gives us courage, and our portfolio positioning reflects our cautious optimism about the outlook for financial markets over the longer term.
Different types of investments do not generally move in tandem – some will go up while others fall, and the situation can reverse quickly.
Our multi asset investment strategies have a variety of investments, with a mix of different asset types designed to do two things:
Find a greater number of opportunities for compelling returns
Manage the fluctuations that occur in financial markets
This means that the funds are diversified across different types of investments to help smooth the investment journey for our clients. In the run up to (and during) the worst market falls of the COVID-19 crisis, the diversifiers within our core portfolios included specialist strategies called 'tail risk hedging'.
Thriving on turbulence: the aims of tail risk hedging strategies
Tail risk hedging strategies are designed to protect against dramatic market falls. During the recent period of extreme stock market stress due to the pandemic sell-off, these complex, actively-managed strategies made a significant contribution to the performance of the funds. As is their nature, they benefited both from the fall in risk assets like shares as well as the generally increased market turbulence.
During benign market conditions, when risk assets are generally moving up and market volatility is relatively low, these strategies generate small negative returns, much like the cost of holding an unused insurance policy. During times of market stress, however, these strategies are able to generate strong positive returns.
Packing a big punch: performance within our portfolios
At the time of the worst COVID-19-related market falls, we held positions in two tail risk funds, both of which become more potent amid falling markets. We opted for positions in these funds of a size which would offset approximately a third of any share price losses we might incur, should stock markets fall by 20%. This meant taking on a holding of between 0.33% and 0.66% across our core portfolios.
Despite these relatively small positions, over the first quarter of 2020, our tail risk positions contributed between +1.2% and +2.6% to overall performance within these core portfolios. This level of positive performance contribution is meaningful, and we think it reiterates the value of holding highly specialist strategies like these, which react positively to extreme market falls.
Sizing our positions: did we have the right amount invested?
In hindsight, of course, we would have liked to have had even larger positions in the tail risk hedges! However, outside of times of extreme market distress, specialist positions like these do underperform, at a cost to portfolios.
As a result, sizing such positions is always a balance between the potential pay-off during periods of market stress, the uncertainty around the exact magnitude of that potential pay-off, and the cost of holding these positions during more benign market environments.
After the storm
We have monetised a portion of the gains made in our tail risk hedges to date, selling out of these positions to generate cash which can potentially be used to buy cheap assets elsewhere in portfolios. That said, we do continue to retain some of our tail risk position. Having proved its worth in early 2020, we believe that it could continue to serve as an important source of positive performance during any future periods of market stress.
*Past performance is not a reliable indicator of future results. Data in GBP. Balanced Portfolio performance refers to performance of the LF Heartwood Balanced Multi Asset Fund after ongoing charges have been taken, which is inclusive of a 1% annual management charge ('C' share class) and third party manager fees. Ongoing charges do not include transaction costs, which may also impact investment returns.
Risks
Portfolios may include individual investments in structured products, foreign currencies and funds (including funds not regulated by the FCA) which may individually have a relatively high risk profile. The portfolios may specifically include hedge funds, property funds, private equity funds and other funds which may have limited liquidity. Changes in exchange rates between currencies can cause investments of income to go down or up. The value of any investment and the income from it is not guaranteed and can fall as well as rise, so that you may not get back the amount originally invested.